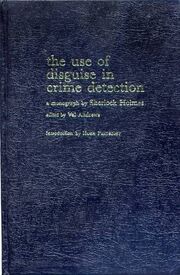 Sherlock Holmes's Monographs is a series of monographs (hence the title) made by the fictional consulting detective Sherlock Holmes in the book series from the same name. The monographs often appear in Sir Arthur Connan Doyle's Sherlock Holmes novels and in its films/series adaptations.
Monographs are small authorial works, usually no longer than a single piece of paper. Sherlock Holmes made several monographs during his time living on the fictional address of 221B, Baker Street, London. Some of those monographs are often mentioned in the books:
The use of disguise in crime detection
The utilities of dogs in detective work
Analysis of tobacco ashes
About enigmatic writing
Probably, there are a few more monographs written by Holmes, but they aren't mentioned in canon.
Adaptations
Edit
On BBC's series "Sherlock", which feature 21st Century versions of Sherlock Holmes and Dr John Watson solving modern crimes, the monographs are published by Holmes on a blog called "The Science of Deduction". A current joke among Sherlock's fans exists about the tobacco ashes monograph, because of a joke made by Dr Watson on the series.
Community content is available under
CC-BY-SA
unless otherwise noted.