Jurassic World: Dominion Dominates Fandom Wikis - The Loop
Play Sound
The Simon Snow book series (by Gemma T. Leslie) is a fictional fantasy series in Rainbow Rowell's novel Fangirl. The main character of Fangirl, Cath Avery, is a fan of the series and an author of many of fanfictions based on it. Cather and her twin sister Wren are about to start college in the beginning of Rowell's novel, and Cather must face the new challenges and experiences she encounters (some good and some bad) while also holding on to her love of Simon. The last book of the Simon Snow series is released at the end of Cath and Wren's first year of college.
Simon Snow is an 11-year-old orphan from Lancashire who is recruited to attend the Watford School of Magicks to become a magician. As he grows older, Simon joins a group of magicians--the Mages--who are fighting the Insidious Humdrum, an evil being trying to rid the world of magic."
His roommate at Watford is Baz.
Books in the Series (2001)
[
]
Simon Snow and the Mage's Heir (2001)
Simon Snow and the Second Serpent (2003)
Simon Snow and the Third Gate (2004)
Simon Snow and the Selkies Four (2007)
Simon Snow and the Five Blades (2008)
Simon Snow and the Six White Hares (2009)
Simon Snow and the Seventh Oak (2010)
Simon Snow and the Eighth Dance (May 1, 2012)
Role in the Story
[
]
The Simon Snow series shows the dedication of Cather Avery, the main character, and also helps guide Cather as she goes through the difficulties of college. As each chapter begins with either a quote from one of the books (shown above) or a quote from one of Cather's fanfictions, the Simon Snow series and Cather are connected over and over again as the book progresses. Cath's Fanfiction novel is called Carry On.
Related Real-World Works
[
]
Based on
[
]
The "Simon Snow" series is (not confirmed but evidence tells us otherwise) based on J.K. Rowling's Harry Potter series. There are many references to the Harry Potter series in the novel Fangirl. Like Harry Potter, Simon Snow attends a magic school. The "Simon Snow" series has sold hundreds of millions of copies and has been translated into dozens of languages. There are "Simon Snow" movie marathons during the holidays. The popularity among fans of a non-canon relationship ("ship") between Simon and Baz may be a reference to the popularity of a non-canon relationship between Harry Potter and Draco Malfoy. The naming of the school as Watford may refer to the Warner Bros. Making of Harry Potter which is in Watford, UK.
Simon and Baz also relate to the non-canon relationship of Jack Frost and Pitch Black in the movie (and book series) "Rise of the Guardians" seeing as Simon's last name is Snow, Baz's last name is Pitch and they are enemies.
Perhaps coincidentally, there is a superhero character named Simon Baz, who is part of the Green Lantern Corps.
Carry On
[
]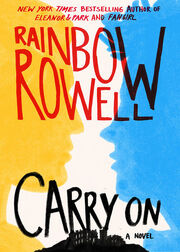 After the success of Fangirl, Rainbow Rowell announced that she would be publishing a real-life book titled Carry On based around the world of Simon Snow. Rainbow has stated that she's not writing as Cath or as Gemma, the fictional author of the original Simon Snow series but as her own interpretation of the series. Although, the title is a reference to Cath's fanfiction, "Carry On, Simon". The book was published on October 6th 2015.
"
Simon Snow is the worst chosen one who's ever been chosen.

That's what his roommate, Baz, says. And Baz might be evil and a vampire and a complete git, but he's probably right.

Half the time, Simon can't even make his wand work, and the other half, he sets something on fire. His mentor's avoiding him, his girlfriend broke up with him, and there's a magic-eating monster running around wearing Simon's face. Baz would be having a field day with all this, if he were here—it's their last year at the Watford School of Magicks, and Simon's infuriating nemesis didn't even bother to show up.

Carry On is a ghost story, a love story, a mystery and a melodrama. It has just as much kissing and talking as you'd expect from a Rainbow Rowell story—but far, far more monsters.

"

–Synopsis of Carry On
Despite being so removed from the Harry Potter universe that it can be published commercially without any legal concerns, Carry On is still immediately recognizable to be a work deeply rooted in Harry Potter fandom and possibly a parody of both the Harry Potter series itself and Drarry fanfiction (fanfiction featuring Harry Potter and Draco Malfoy in a relationship) without being disparaging of either.
Recursive Canon Doctor Who Paradox in Carry On

[

]
The Simon Snow series doesn't exist inside the fictional universe of Carry On -and neither does Harry Potter, at least not explicitly. However, what does exist very explicitly in the fictional universe of Carry On, is Doctor Who, with characters mentioning the show more than once in both Carry On and Wayward Son. At least in our universe though, Doctor Who has an episode called "The Shakespeare Code" that heavily references the Harry Potter books in various way, to the point that at the climax of the story, an alien threat is defeated by the characters yelling "Expelliarmus". However, if both Doctor Who and the Harry Potter book series existed the same way they do in our universe, it would be almost impossible for Simon and Baz to not mention how ridiculously similar they are to Harry and Draco, so it's entirely possible that even though there is a show called Doctor Who in the universe of Carry On with a similar format and concept, it's probably an alternate Universe version, in a similar way to how the Simon Snow books in the fictional universe of Fangirl are an alternate reality version of Harry Potter.
References
[
]
Rowell, Rainbow. Fangirl. New York: St. Martin's Griffin, 2003.